Walking trail reopens in Monterosso-al-Mare
The idyllic Via delle Agavi, which connects the waterfront with the cemetery and the statue of St Francis in Monterosso-al-Mare, has reopened to the public after being closed for two years.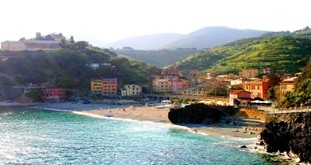 The Cinque Terre is the perfect destination in Italy for those that enjoy walking in nature as there are plenty of pretty trails to explore along this famous stretch of coastline. In the past, one of the most popular walking trails was along Via delle Agavi in Monterosso-al-mare; however, two years ago it closed to the public due to a landslide.
We are pleased to announce that, after careful restorative works under the watch of the Cinque Terre National Park, Via delle Agavi  reopened to the public in late October 2017, allowing visitors to enjoy this beautiful path connecting the waterfront with Monterosso's cemetary and the intriguing statue of St Francis.
The works are estimated to have cost nearly €170,000 and feature containment walls and reinforcements to protect from future landslides, as well as steel parapets and parapet grids to secure the area. There has also been a substantial effort to create a haven for wildlife by clearing invasive weeds and planting flowerbeds and Mediterranean shrubs to encourage butterflies, bees and other wildlife, making this the perfect Cinque Terre walking path for nature lovers.
If you've never been to the Cinque Terre and are interested in visiting this sublime stretch of coastline on a twin-centre Italy holiday, why not chat to one of our expert travel advisers about our customised trips – call an expert member of our team on 01223 637331 or click here to send an online enquiry – we typically reply within 24 hours. Alternatively, please click here to browse our selection of twin-centre Italy holidays.
Search Keywords
Enter keywords below to perform a search within the events to find more relevant posts