Twin-centre Holidays to Europe
Here at ItalyTwinCentreHolidays.co.uk, we love multi-city vacations that allow you to visit more than one resort on your holiday; however, we don't think you should be limited to Italy alone! Thanks to the boom in economical inter-country flights, as well as some rail services, it's now easier than ever to enjoy a twin-centre holiday to Europe.
If you're thinking about a twin-city vacation or touring holiday of Europe, here are some of our favourite combinations, with travel tips for a seamless trip.
Lake Garda & Dubrovnik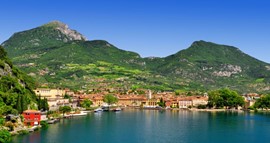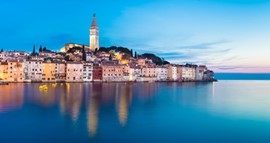 If you want to immerse yourself amongst stunning natural landscapes, but also enjoy the vibrancy of a holiday resort, then we think you'll love our Lake Garda and Dubrovnik twin-centre holiday.
In Lake Garda, you can explore this great lake and its pretty lake-side villages, including Garda and Desenzano del Garda. You could also stop by one of the thermal spas in Sirmione on the peninsula that juts out into the lake, where the sulphur waters are thought to have healing properties. There are also plenty of activities to enjoy, such as bike riding, and many hotel around Lake Garda offer free bike rental. You could even take a day to visit Milan and browse the fashion district or stroll along the tree-lined boulevards.
Dubrovnik is widely known as the Pearl of the Adriatic, and here you can discover the cultural Old Town, as well as the city's breath-taking sandy beaches and unparalleled luxury. Dubrovnik is quaint, yet decadent and also offers world-class sailing opportunities, making it an excellent choice for those that enjoy water sports. There are also several small islands that you can visit from Dubrovnik Harbour, making for a particularly diverse vacation in Europe mixing nature with city sights.
Rome & Athens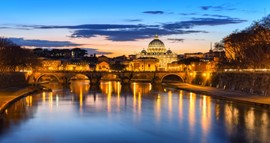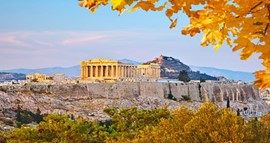 If historical sights are your thing, then you will love this twin-centre holiday to Rome and Athens.
In Rome, you can explore the ancient Colosseum and Roman Forum, or take some time to visit Rome's eerie underground catacombs, which are ancient burial sites. There are also many classic attractions to enjoy, along with rich architecture, such as the Trevi Fountain, the Spanish Steps and Vatican City. We also highly recommend taking a stroll through the Villa Borghese Gardens, which are delightful in the spring and summer months.
Meanwhile, in Athens you can discover Greece's rich culture and history, and visit the Parthenon temple, the Acropolis of Athens and the medieval Daphni Monastery. As a part of a customised twin-centre holiday booked through us, we can arrange a day trip to Delphi, where you can find the Temple of Apollo, as well as the mountain-side archaeological complex and an Archaeological Museum with artefacts found among the ruins.
Florence & Budapest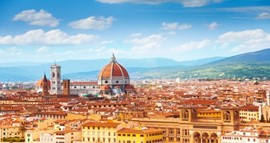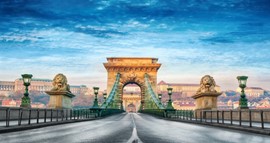 This is one of our favourite twin-centre holiday combinations as it combines two of the most beautiful and vibrant cities of Italy and Hungary.
In Florence, you can explore the many examples of Renaissance architecture or perhaps spend a day exploring the city's art scene with a visit to the Accademia Gallery, which is home to Michelangelo's statue of David, as well as the famous Uffizi Gallery, which has an extensive art collection belonging to the Medici Family. From Florence, you can also visit some other iconic attractions in Tuscany, such as Pisa and the Chianti wine region. If you have time, we also recommend taking a day tour of the lesser-known cities, such as San Gimignano, Siena or Lucca.
Meanwhile, Budapest brings bustling diversity that we think will be the perfect finale to your Italy and Hungary multi-stop vacation. Here you can enjoy Budapest's many divine buildings, including the neo-Gothic parliament building, which is the biggest building in Hungary and home to the Hungarian Crown Jewels, as well as Castle Hill (a UNESCO site) and the Castle District, which has several glorious churches and interesting buildings and squares.
Venice & Nice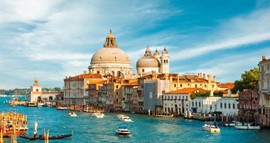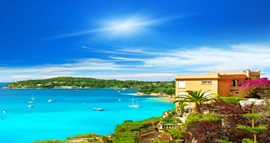 If you are thinking about a twin-centre honeymoon in Europe, then we think Venice and Nice will offer you the magic, romance and sublime coastal scenery that you're looking for.
The Floating City of Venice is a magical place to begin your twin-centre honeymoon or romantic vacation as it features glorious architecture that lines the banks of the Grand Canal, such as Doge's Palace and St Mark's Basilica. Besides the famous attractions in Venice, we love the lesser-known sights in this famous city, such as Teatro La Fenice and Scala del Bovolo, and it is also well worth taking a day to explore the smaller islands in the Venetian Lagoon, such as Murano, Burano and Torcello.
As a finale to your Europe twin-city holiday, Nice brings a sense of exquisite luxury and pretty coastal scenery that will lull you into complete relaxation. Here you can explore the pebbled shores, pristine white-sand beaches, vibrant markets and exquisite French cuisine, or perhaps you just want time to relax in the sunshine, soaking up sea views and reflecting on the tranquillity of the unwavering horizon – bliss!
Milan & Berlin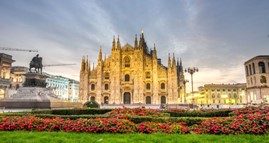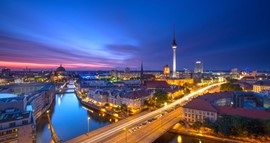 If you want to experience city vibrancy and a fun, modern atmosphere on your Europe holiday, we recommend combining Milan in Italy with Berlin in Germany.
In Milan, you can stroll through the city's famous fashion district or take a day trip to the fashion outlet on the outskirts of the city. Besides shopping, Milan also has much to offer holidaymakers looking for a diverse vacation, including Gothic architecture (the Cathedral being the most notable example), a modern sports stadium and the historic La Scala Theatre – to make the most of your time and budget, we recommend pre-booking tickets for a hop-on/hop-off bus tour as this allows you to see all the main sights and is also a great way to get about the city.
Finally, in Berlin you can contrast Milan's chic vibe with Berlin's diverse art and archiecture. It offers clean-cut modern buildings, such as the Neue Nationalgalerie (New National Gallery) and the Berlin TV Tower, but also features iconic buildings and monuments with historical significance, such as the Berlin Wall Memorial, Brandenburg Gate and Checkpoint Charlie, making for a particularly diverse holiday with something for everyone.
If you are thinking about a twin- or multi-centre holiday in Europe but are unsure which cities work well together, why not get in touch with one of our travel experts, who can provide you with a personalised holiday quote. To find out more, call us on 01223 637331 or click here to send an online enquiry.
Search Keywords
Enter keywords below to perform a search within the events to find more relevant posts