Sicily twin-centre holidays
With its delightfully laid-back culture, rustic country scenery and sublime coastlines, not to mention its iconic wine culture, Sicily is one of our favourite destinations for a twin-centre holiday. It features a wealth of diverse attractions and is steeped in history, making a Sicily twin-centre holiday the ideal choice for holidaymakers who have discovered the main cities of Italy and are eager to step off the beaten track and discover a different side to the Mediterranean.
If you're thinking about a twin-city holiday to Sicily, here are some of our favourite combinations with tips on what to do and see. If you would like to find our more about our Sicily holidays, why not chat to one of our travel experts about our tailor-made Sicily holidays? Call 01223 637331 to find out more.
The classic...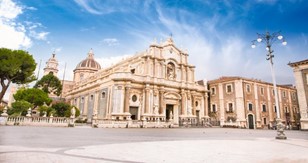 If you want to enjoy a classic Sicily twin-centre holiday then you can't go wrong with Palermo and Catania - the two main cities on the island that each features its own unique culture and encapsulating atmosphere.
Palermo is Sicily's capital and the ideal choice if you enjoy fine architecture, particularly Baroque and Gothic styles, but it also features an idyllic seafront promenade with views of the Gulf of Palermo and Tyrrhenian Sea that are simple divine. As the capital, there is plenty of history and tradition to enjoy in Palermo and we especially recommend visiting one of the city museums, such as Palazzo dei Normanni, as well as the iconic Teatro Massimo, which is an opera house known for its unique acoustics.
After enjoying the culture in Palermo you can travel east to Catania, where you can discover a completely different way of life! Catania is one of Sicily's most vibrant cities, with plenty of cafes and bars to enjoy, as well as a modern sort of city life that is quite captivating. It has plenty of intriguing sights to enjoy, such as the Cathedral and Palazzo Biscari, but, being so close to Mount Etna, it is also the perfect base from which to enjoy this famous volcano - perhaps for a wine-tasting experience or an exhilarating walking tour.
For the best beaches...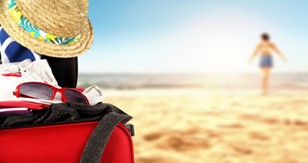 If you're eager to discover the best beaches in Sicily and spend some time relaxing in the sunshine or enjoying watersports, then we highly recommend the combination of Cefalu and Giardini Naxos.
Cefalu is a place where you can immerse yourself in traditional Sicilian life and enjoy a relaxed atmosphere that will complement your beach vacation perfectly. It sits on the north coast of the island and is home to many of the prettiest beaches in Sicily, several of which offer watersports opportunities, such as SCUBA diving and snorkeling. From Cefalu, you can also take a day to visit Palermo - Sicily's capital city - where you can admire Baroque architecture and marble fountains.
Giardini Naxos, meanwhile, is one of Sicily's most important port towns and it has a delightful harbour full of life. However, it hasn't lost its sense of secluded tranquility and there are plenty of quiet little coves that you can discover. One of the things we love most about Giardini Naxos is its delightful natural views, featuring panoramic vistas of the bay set against a backdrop of the surrounding hills. Giardini Naxos is also the perfect spot from which to visit Mount Etna, as it is not far from this coastal retreat to the town of Taormina, which sits at the foothills of the volcano.
For a little Greek culture...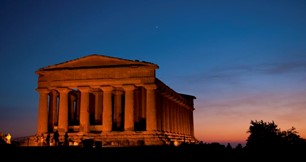 The history of Sicily can only be described as "turbulent", having once being ruled by the Roman Empire, a Germanic tribe, the Arab world and Spain, among others. Such a diverse history has led to a unique culture and many fascinating attractions. One of our favourite attractions in Sicily is the Valley of the Temples near Agrigento in Southwest Sicily. The site is UNESCO protected and is home to stunningly preserved Doric temples that date back to the 5th and 6th centuries BC, which once formed the ancient Greek city of Akragas. The best temples to see here are the Temple of Hera, the Temple of Concordia, the Temple of Herakles, the Temple of Zeus and the Sanctuary of Chtonian Deities (including the Temple of Castor and Pollux).
Agrigento combines well with any city in Sicily, but we particularly enjoy the contrast between Agrigento and the more modern architecture of Palermo; however, for something a little special, why not consider taking a Sicily island cruise from Porto Empedocle on the coast near Agrigento for a wonderfully diverse appreciation of Sicilian culture.
We specialise in tailor-made twin-centre holidays to Italy and Sicily, and as a part of your customised Sicily holiday we can arrange a selection of additional extras, such as guided tours or the best sights, wine-tasting experiences and boat tours. To find out more about our unique holiday experiences, which are fully ATOL protected, why not call an expert member of our team on 01223 637331. Alternatively, click here to send an online enquiry.
Search Keywords
Enter keywords below to perform a search within the events to find more relevant posts