Our guide to Rome
If you've never been to Italy before, then we're sure that you're eager to include Rome in your twin-centre holiday to Italy. If you're thinking about visiting the Eternal City, then here is our guide to Rome, including recommended hotels and top attractions.
Getting There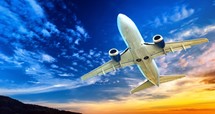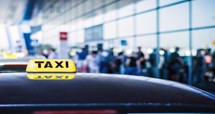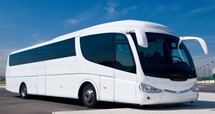 If you're arriving in Rome by plane, then you will either arrive in Rome Fiumicino or Rome Ciampino airport.
From Rome Fiumicino, you pretty much have three options when it comes to reaching the city centre: taxi, train or bus. If you choose a taxi, then follow the signs to the taxi rank outside the airport, where you can queue for a taxi. The fare from Fiumicino to central Rome (within the Aurelian Walls) is fixed at €48 for up to four people and their luggage and the trip takes approximately 45 minutes. If you choose the train, then follow the signs to Fiumicino's train station and take the Leonardo Express train from Fiumicino Aeroporto to Roma Termini. Trains depart every 30 minutes and take 32 minutes (one-way ticket: €14; first train: 6.23 am; last train: 11.23 pm). Note that you must buy and validate a ticket in advance of travel. Finally, if you would prefer to take the bus, we recommend taking an economical shuttle bus, such as Terravision. Buses depart every 20 minutes, taking approximately 55 minutes to the city (one-way ticket: €4; first bus: 5.35 am; last bus: 11 pm).
From Rome Ciampino, you can also take a taxi by following the signs to the taxi rank outside Ciampino Airport. The fare from Ciampino to central Rome (within the Aurelian Walls) is fixed at €30 for up to four people and their luggage and the trip takes approximately 25 minutes. If you would prefer to take the bus, we again recommend taking a Terravision shuttle bus. Buses depart regularly, taking approximately 55 minutes to the city [one-way ticket: €4; first bus: 12.15 am (and then not until 8.15 am); last bus: 11.40 pm].
Recommended Hotels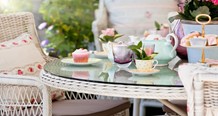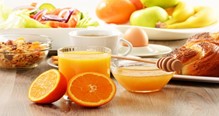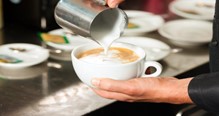 Rome has a diverse selection of hotels to choose from and this can be overwhelming. To narrow down your search, we recommend thinking about where you would like to be situated in the city; for example, would you like to be in the historic centre, close to attractions such as the Colosseum, or would you prefer to be closer to the Vatican and Rome's bustling food district? Whatever location in the city you choose, we recommend choosing a hotel within the Aurelian Walls so that you are close to the Rome attractions for sightseeing. Below, you will find some of our favourite hotels and the attractions that they are close to.
Smooth Hotel Rome Termini (3 star)
Close to: Villa Borghese, Piazza della Repubblica, the Baths of Diocletian and Termini Train Station
Best for: Modern and simple accommodation
Smooth Hotel Rome Termini is a new hotel in the heart of Rome's historic centre and provides modern accommodation that perfectly contrasts the hotel's ancient surroundings. The hotel resides within a historic residence that has been fully refurbished to a high standard and includes a selection of contemporary rooms that make the perfect fuss-free base from which to explore Rome.
Hotel Villa Pinciana (4 star)
Close to: Villa Borghese, Trevi Fountain and Spanish Steps
Best for: Elegant accommodation with updated rooms
Hotel Villa Pinciana resides inside an elegant Liberty-style building and is a popular choice with our customers travelling to Rome on a sightseeing vacation. As well as being close to Rome's large Villa Borghese park, the hotel has a pretty garden itself, as well as modern services, such as free WiFi and concierge. One of the things we like the best about Hotel Villa Pinciana is the spaciousness of its guestrooms and the décor, featuring woven gold fabrics and inlaid wood furniture, which very much feels in keeping with the hotel's cultural surroundings.
Grand Hotel Via Veneto (5 star)
Close to: Via Veneto (as the name suggests!) and Villa Borghese
Best for: Luxury rooms with state-of-the art facilities
Grand Hotel Via Veneto is one of our favourite luxury hotels in Rome and features 116 rooms and suites, all of which contain beautiful décor and 1920s inspired handmade furniture, as well as grand marble bathrooms. It also features two fine dining restaurants, a rooftop solarium, a state-of-the-art spa, a fitness centre and a legendary art collection, including works by Picasso, Dali and Guttuso. The hotel is designed in a sleek style and is an excellent choice for a luxury vacation or working holiday - the hotel has several meeting rooms with modern conference amenities.
Top Attractions
Colosseum & Roman Forum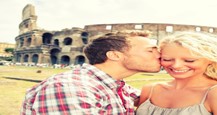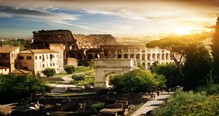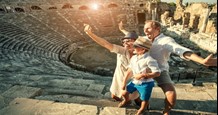 No trip to Rome would be complete without seeing the ancient Colosseum, which is a world-recognised icon of the city. The Colosseum's construction was started in 72 AD under the Emperor Vespasian and was completed in 80 AD under Emperor Titus, with further modifications being made during Domitian's reign (81–96 AD). It is epic in size and was once capable of seating 50,000 spectators for its gory gladiatorial contests and public spectacles, including mock sea battles, animal hunts, executions, re-enactments of famous battles and dramas based on classical mythology.
Occupying a site just west of the Colosseum is the Roman Forum, which is a rectangular plaza surrounded by the ruins of several important ancient government buildings at the centre of the city. It was, for centuries, the centre of Roman public life and is a fascinating place to visit to capture an essence of the Roman Empire.
The queue for tickets to the Colosseum and Roman Forum can be lengthy in the peak season, so we recommend reserving "skip the line" tickets in advance or, to make the very best of your trip, book a guided tour.
Vatican City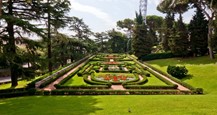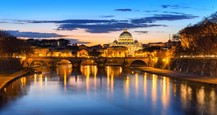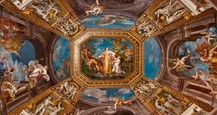 As well as stunning architecture that is renowned across the globe, Vatican City is home to one of the world's most precious art collections in its Museums. Here, you can find some of the greatest masterpieces of all time, precious artefacts from across the globe and delightful tapestries that have been collected over many decades by the Popes. Initially, the art collections were hidden away in religious palaces; however, at the beginning of the 1500s, Julius II made a selection of valuable ancient sculptures open to the public in the Octagonal Courtyard. Since then, more exhibits have been put on display, covering a vast period of time in history and a wide geographical scope, stretching from the world of ancient Egypt until the modern day.
We highly recommend visiting Vatican City during your stay in Rome and tickets to Vatican City permit you entry to the Museums, St Peter's Basilica and the Sistine Chapel (with its ceiling famously painted by Michelangelo). Booking in advance is a must as there is limited availability and tickets sell out during peak season.
Trevi Fountain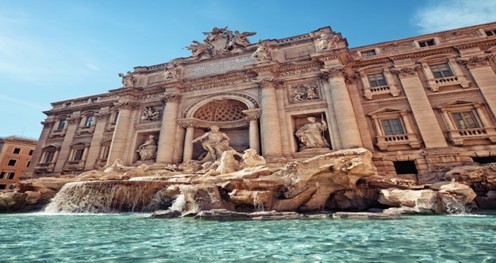 Rome has a host of classic architecture to discover, including the famous Trevi Fountain, the backdrop of which is the magnificent Palazzo Poli. The fountain has featured in several films, including La Dolce Vita and Three Coins in the Fountain, and is Rome's largest Baroque fountain. It was recently closed for a refurbishment that was funded by the Italian fashion house Fendi to the tune of $2.2 million but is now open once again for the public to enjoy.
Spanish Steps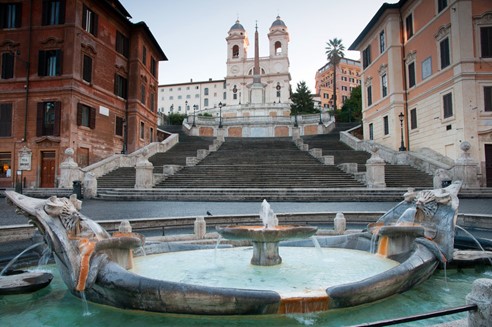 The Spanish Steps between Piazza di Spagna and Piazza Trinità dei Monti and the Trinità dei Monti church are one of Rome's most iconic landmarks. The steps, which are an example of Baroque architecture, were constructed in the 18th century between 1723 and 1726 by Francesco de Sanctis from tavertine stone. The monument is considered to reflect both the French presence in Rome during that time and the underlying Spanish colony. We are sure the monument will be familiar to you as it has featured in a number of films, including Roman Holiday, starring Audrey Hepburn, and The Talented Mr Ripley.
If you would love to visit Rome on a twin-centre holiday but are put off by the stress of arranging all the travel details, speak to one of our friendly travel advisers about our custom-made holidays to Italy. We will listen to what you want from your twin-centre Italy holiday and will then put together the perfect holiday itinerary for you, including flights, airport transfers, inter-city train transfers, accommodation and optional pre-arranged activities. You can call us on 01223 637331 or click here to send an online enquiry. Alternatively, for holiday inspiration, please visit this dedicated section of our website for our best Italy holiday offers.
Search Keywords
Enter keywords below to perform a search within the events to find more relevant posts