Five of the best Rome twin-centre holidays
With the time constraints of modern life, holidays are becoming more important and many want to make the most of their holiday time by visiting more than one destination on a single trip. Here, we look at the best Rome twin-centre holidays for 2018.
Rome is one of Italy's top holiday destinations and a frequent favourite in travel magazines thanks to its historic attractions and fascinating culture. Here, you can discover famous landmarks, such as the Colosseum, Roman Forum and Vatican City, and marvel at intricate architecture, such as the Trevi Fountain.
With a wealth of famous attractions to explore, as well as hidden gems, it is no wonder that many holidaymakers put Rome firmly at the top of their 2018 holiday wish-list. If you would like to visit Rome in 2018 but are eager to make the most of your holiday time, here are five of the best Rome twin-centre holidays.
Rome and Sorrento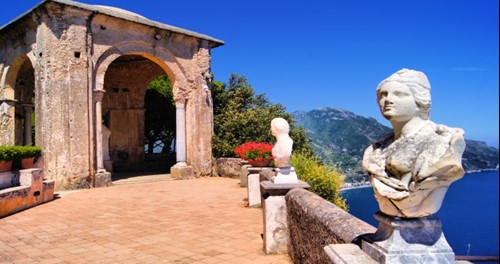 A Rome and Sorrento twin-centre holiday is the perfect choice if you want to combine the historic attractions in Rome with a coastal retreat.
Sorrento is an idyllic coastal resort in South Italy, not far from Naples. It boasts glorious views of the Bay of Naples and the epic Mount Vesuvius, and is well known for its fragrant lemon groves, which are dotted about the city.
As well as its own charming town centre, Sorrento is the perfect place to base yourself if you would like to discover the local Campania attractions. In particular, you can easily visit the following on a day trip from Sorrento:
Naples – the birthplace of the pizza can easily be reached from Sorrento by road or using the hydrofoil boat service.
Capri – well known as the "Pearl of the Mediterranean", this island is a wonderful day trip from Sorrento and a lovely place to relax in the sunshine and discover natural sea caves and coastal attractions.
Pompeii and Herculaneum – Italy's lost cities and among the world's most important archaeological sites; for the best experience, we recommend pre-arranging a guided tour of these ancient cities.
Best for: A honeymoon or romantic vacation, but also works well as a relaxing family holiday.
Rome and Venice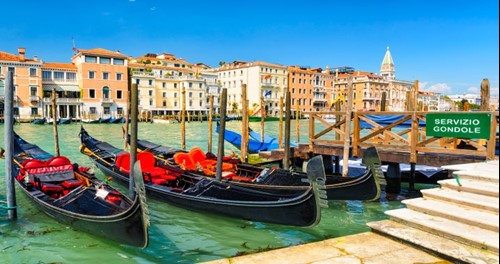 If you want to enjoy a luxurious Rome twin-centre holiday, we recommend combining the Eternal City with the magical floating city of Venice. This combination is perfect for an Italy honeymoon and allows you to enjoy two of Italy's most famous holiday destinations.
Visiting Venice is a unique experience as the city is a complex network of canals, with no roads. Travel experts often say you should get lost in Venice at least once in your life, but far from causing anxiety or frustration, being lost in Venice allows you to discover the city's hidden corners and magical attractions.
On your Rome and Venice twin-centre holiday, don't miss out on enjoying:
A gondola tour of the Grand Canal (for the best experience, opt for a private gondola).
A guided tour of the St Mark's area, including Doge's Palace and St Mark's Basilica (pre-booking tickets is a must as these venues sell out during the peak season).
A day trip from the Venice main island to the smaller islands of Murano, Burano and Torcello (a wonderful experience to discover the Venetian way of life).
Best for: An Italy honeymoon or anniversary trip.
Rome and Florence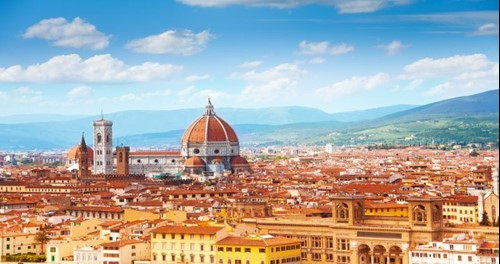 Florence is known as the birthplace of the Renaissance and we love the contrast between Rome's historic attractions and Florence's artistic vibe on this Rome twin-centre holiday.
Florence is surely one of the most beautiful cities in the world and an excellent base if you want to explore Tuscany on your customised Italy holiday. From this Renaissance gem, you can easily visit:
Pisa and its iconic Leaning Tower (take the train from Florence Santa Maria Novella train station direct to Pisa Centrale train station).
Siena – home of the famous Il Palio horserace, but also a place where you can enjoy pretty architecture and buy unique Tuscan gifts.
The Chianti wine region – we love Greve in Chianti, but the Val d'Orcia wine roads are also idyllic for a Florence day trip.
And, of course, Florence boasts its own glorious attractions, such as the Accademia art gallery (where you can see Michelangelo's David), the Uffizi and the Cathedral.
Best for: A cultural holiday to Italy, combining history and art.
Rome and Sperlonga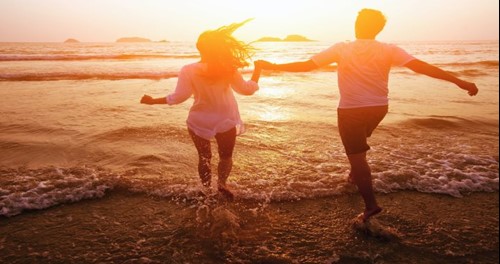 If a Rome and beach holiday appeals to you, then we recommend combining the Eternal City with Sperlonga on your Italy summer holiday package.
Sperlonga is a tranquil beach resort in Italy's Latina province, sitting between Rome and Naples. It is well known for its mystical sea caves. In particular, a sea cave near the Villa of Tiberius was found to contain spectacular ancient sculptures, which can now be viewed at a nearby museum.
Sperlonga also has several glorious sandy beaches. The main beach actually stretches from the coastal town all the way to Terracina; however, there are also smaller, more secluded beaches to enjoy, as well as rock pools, making this Italy beach resort ideal for a relaxing holiday in the sun.
However, if you would prefer to mix lounging on the beach with a day enjoying Sperlonga's cultural attractions, seek out the ancient church of Santa Maria, which dates back to the 12th century and boasts some very pretty mosaics.
Best for: A summer holiday in the Mediterranean sunshine.
Rome and Lake Garda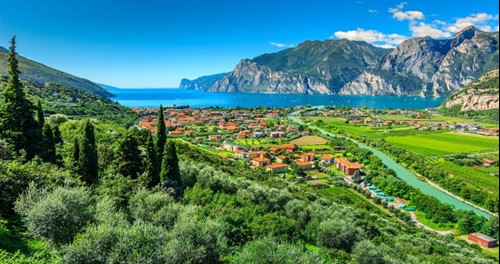 For a mix of city vibrancy and a natural escape, combine Rome and Lake Garda on your Italy twin-centre holiday.
Lake Garda is the largest lake in the Italian Lake District and boasts enchanting natural views as the lake waters are backed by imposing mountain scenery. There are several resorts around Lake Garda to choose from, but the most popular are Sirmione and Desenzano del Garda. These are perfect if you want to be close to shops and restaurants, but still enjoy the tranquillity of being on the banks of the great lake. If you would prefer to be in a more secluded resort, opt for Garda or Malcesine.
Around the lake, there are plenty of opportunities to enjoy sports, such as walking trails, cycling and watersports. There is also a popular theme park, called Gardaland, nearby, making this an excellent Rome twin-centre holiday for families.
Best for: An Italy family holiday or those seeking out an active holiday.
Discover our Rome Twin-centre Holidays
We specialise in tailor-made travel and all our Italy twin-centre holidays are handcrafted to suit your needs. When you enquire about a Rome twin-centre holiday with us, we will take the time to understand what you want from your Italy holiday and will then create a personalised holiday itinerary just for you. As a part of our complete travel service, we can arrange:
Return flights (from your choice of airport)
Private airport transfers in Italy
Accommodation (we only work with the best hotels in Italy)
Tours, day trips and activities
Restaurant reservations
Car hire
All our Rome twin-centre holiday packages are ATOL protected and we are members of ABTA. Plus, you will have a personal travel expert on-hand, who will be able to assist you at every step of the way: before, during and after your Italy twin-centre holiday. To find out more, call us on 01223 637331 or click here to send an online enquiry.
Search Keywords
Enter keywords below to perform a search within the events to find more relevant posts