City and coast Italy twin-centre holidays
With cultural cities not far from sandy beaches and glistening seas, Italy is the perfect destination for a city and coast twin-centre holiday.
One of the reasons that Italy attracts millions of visitors each year is the diversity of resorts on offer. On an Italy twin-centre holiday, you can easily mix the vibrancy of an Italian city with relaxation in a coastal setting, giving you the perfect blend of cultural sights and sun-worshipping.
If you're thinking about an Italy twin-centre holiday combining a city in Italy with a coastal resort, here are some of our recommended Italy holidays for 2018.
Best for Couples: Rome and Sorrento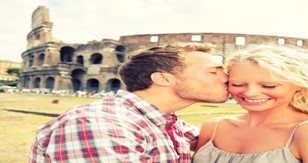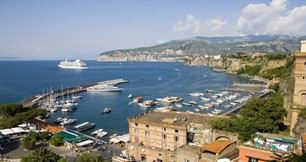 We love the combination of Rome and Sorrento for a romantic couples' holiday, such as an Italy honeymoon.
In Rome, you can walk through years of history and take in iconic sights, such as the Colosseum and St Peter's Basilica. As a romantic treat, we recommend taking a night tour of the city – Rome looks simply magical as the sun sets and the iconic sights are highlighted with romantic lighting.
After taking some time to discover Rome (we recommend taking at least three days), you can end your Italy twin-centre holiday in the coastal resort of Sorrento. This sun-soaked town sits on the South Italy coast, not far from Naples. In the town, you can sample an authentic Italian pizza and discover the boutique stores that sell hand-painted ceramics. For the most romantic day trips, we recommend visiting the islands of Capri and Ischia – they are perfect for relaxing in the sun but are also home to magical sea caves that will set the scene for your romantic holiday in Italy.
Best for Diversity: Florence and Rimini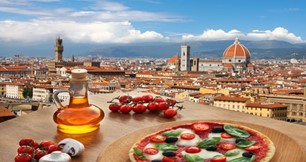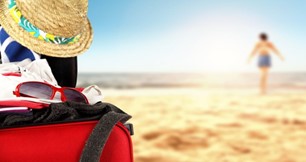 If you are the kind of person who loves to see new attractions and enjoy the vibrancy of Italian culture, we recommend combining Florence and Rimini on your city and coast twin-centre holiday.
In Florence, you can fully immerse yourself in the art culture and discover the Renaissance jewels of the city. Don't miss seeing the iconic Cathedral on Piazza del Duomo, with its 15th-century dome designed by Filippo Brunelleschi. We also recommend pre-arranging entry to the Accademia, where you can see Michelangelo's original statue of The David. We guarantee that the size and intricacy of this iconic sculpture will stun you! From Florence, you can also easily visit other attractions in Tuscany, such as the Leaning Tower of Pisa and the Chianti wine region, making sure that there is always plenty to see and do.
After some time discovering Florence, this diverse Italy holiday ends in the vibrant coastal resort of Rimini. Known as the "Miami of Europe", here you can relax on miles of sun-soaked sandy beaches and enjoy cocktails at one of the sea-view bars. If you want to discover the cultural sights, don't miss the Old Town, where you can admire Roman and Renaissance monuments, such as the Arch of Augustus and the Tiberius Bridge. There are also plenty of designer stores to browse, including Gucci, Prada and Armani.
Best for Families: Rome and Sperlonga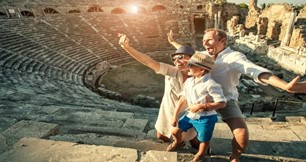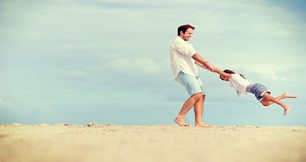 For a family holiday in Italy, we recommend minimising the travelling to allow your family to make the most of their time. Rome and Sperlonga beach are an excellent combination, as Sperlonga is located just 130 km south-east of central Rome and there is a train that goes direct from Rome Termini to Fondi-Sperlonga.
If you have younger children, we recommend treating them to a day at "Gladiator School" while in Rome. As a part of this experience, they can have fun with professional Roman Gladiators and dress up as a trainee Gladiator, complete with a traditional costume and rudis. In a safe environment, children can then learn moves used by authentic Gladiators in ancient times and learn more about this famous Roman culture.
After discovering Italy's ancient past, it's time for some fun in the sun! Located in the province of Latina, about half way between Rome and Naples, Sperlonga offers families a sun-soaked seaside resort with plenty of family-friendly beaches that are free to relax on. The landscape is defined by its whitewashed villas and there are plenty of self-catering apartments that are perfect for families. There is also a WWF nature reserve that you can visit inland, as well as an Archaeological Museum.
Best for Luxury: Venice and Positano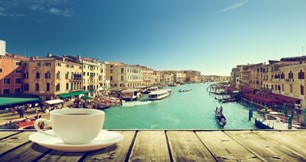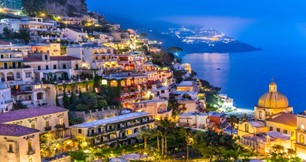 If you are looking for a luxury city and coast Italy twin-centre holiday, then we think you'll love the combination of Venice and Positano on the Amalfi Coast.
Venice is practically dripping in decadence – there are stylish and chic bars dotted all around the city where you can enjoy an Aperol Spritz made with Veneto prosecco, as well as 5-star hotels offering unrivalled luxury services. One of our favourite luxury Venice hotels is the Metropole, which stands in an unrivalled position in front of the Grand Canal and a very short walk from St Mark's Square. The hotel is like a museum, with each floor dedicated to a Venetian tradition, featuring exhibits and displays.
After absorbing city luxury in Venice, you can discover one of the most sought-after holiday resorts on the Amalfi Coast. Positano is a favourite destination of celebrities and famous faces, and is well known for its idyllic sea views and dramatic coastal scenery. The landscape is defined by its colourful villas, which cling to the cliffside and contrast perfectly with the emerald-green glistening Tyrrhenian Sea. It's the perfect place to relax by the pool and take in panoramic views, but if you want to explore the nearby cultural attractions, we recommend arranging a day trip to Pompeii – Italy's "lost city" and one of the world's most important archaeological sites where you can journey back in time to 79 AD.
Best on a Budget: Palermo and Cefalu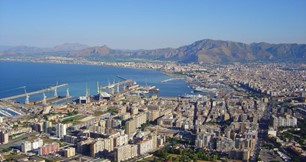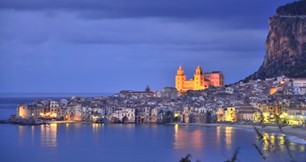 If you're on a budget, we recommend putting Sicily at the top of your city and coast twin-centre holiday hitlist. In particular, we love the combination of Palermo and Cefalu as it allows you to appreciate the Baroque beauty of the Sicilian capital, while also spending some time relaxing on the coast.
Palermo is the Italian Capital of Culture for 2018 and will be hosting the 12th edition of Manifesta (a European festival of contemporary art) between June and November, with many free events to enjoy. As the capital of Sicily, Palermo is the perfect destination to get an essence of the Sicilian way of life. As a part of your city and coast Italy holiday, we recommend visiting the Palazzo dei Normanni – a 9th-century ornate palace and museum – the Cattedrale di Monreale, Teatro Massimo (an opera house) and the Palermo Cathedral.
The coastal city of Cefalu sits on Sicily's north coast and can easily be reached from Palermo, allowing you to save money on transfer fees. There are plenty of hotels to choose from and many budget hotels offer comfortable sea-view accommodation for an affordable price, as well as self-catering villas. One of the best things about Cefalu is its combination of tourist attractions and fine beaches. The top attractions include the Duomo, Museo Mandralisca and the iconic La Rocca. But for the best sand and sea views, head to Spaggia di Cefalu, which is a crescent-shaped beach with a public area where you can hire a beach umbrella and deck chair for approximately €15 per day.
A Tailor-made City and Coast Italy Twin-centre Holiday
We specialise in tailor-made travel to Italy. If you would like to visit this country on a city and coast twin-centre holiday, get in touch with one of our dedicated travel experts to find out more about our unique and personalised Italy holidays. We will take the time to listen to what you want from your city and coast vacation and will then tailor a holiday exactly to your needs, including your budget. Call us on (UK) 01223 637331 or (US) 347-594-5500 to find out more or click here to send an online enquiry.
Search Keywords
Enter keywords below to perform a search within the events to find more relevant posts