Best Rome Twin Centre Holidays
Rome is one of our most requested vacation destinations and, if you've never been to Italy before, the Eternal City is an essential stop on your Italy vacation.
With holiday time becoming more precious, twin centre holidays that allow you to visit two Italian resorts in one vacation are becoming more popular. If you're thinking about a twin-centre holiday in Italy and want to visit Italy but are unsure of which other cities combine well with Rome, here is our guide to the best Rome twin centre vacations, with tips on how to get between the resorts and what to do and see during your trip.
Rome and Sorrento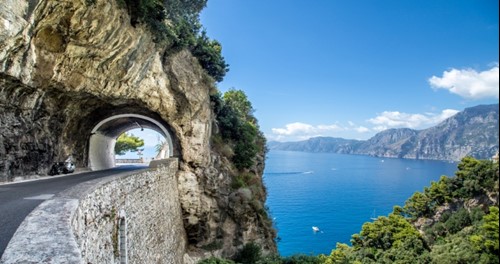 Sorrento is a pretty coastal town on Italy south coast, not far from Naples. It has a relaxed and tranquil vibe, with fragrant lemon groves dotted around the city and a quaint city centre with boutique shops. Rome and Sorrento as a twin centre is one of our most popular holidays as it combines the history and vibrancy of Rome with the laid-back atmosphere and sunny coastal scenes that can be enjoyed in Sorrento.
How?
Thanks to Italy's excellent train network, getting between Rome and Sorrento is easy: you can take a high-speed train from Rome's Termini station to Naples' Centrale station and then take a taxi on to Sorrento. However, we would highly recommend pre-arranging a car transfer from Naples to Sorrento to avoid stress when you arrive at the train station and also to avoid an unnecessarily expensive journey.
What to do and see
Rome has so much to do and see that it's almost impossible to cover everything in one trip! If it's your first time in the city, the Colosseum and Roman Forum are a must, and you may also enjoy a visit to Vatican City, where you can see the museums, which are home to ancient artefacts and artistic masterpieces. Also take a stroll around Rome's classic sights, such as the Trevi Fountain and Spanish Steps – the most economical way to do this (without having to walk too much) is to buy hop-on/hop-off bus tour tickets.
Sorrento is reasonably small and so you can cover the main town attractions easily on foot. However, they are many lovely things to see close to Sorrento, including the islands of Capri and Ischia, and the city of Naples. We would also highly recommend a day tour to the ancient city of Pompeii, which was lost for nearly 2000 years beneath a blanket of ash following a catastrophic volcanic eruption – it is one of the world's most important archaeological sites where you can see preserved artefacts and even the entombed inhabitants that were preserved by the lava.
Rome and Venice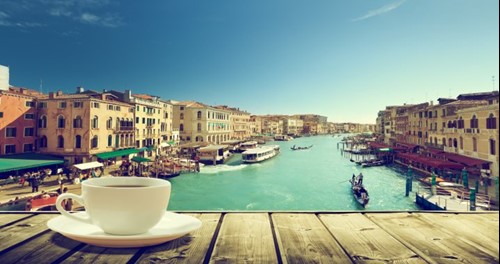 While Rome brings history and unique archaeological features, Venice brings romance and magic, making a Rome and Venice twin centre holiday a good choice for a romantic vacation for couples, perhaps for an engagement or honeymoon – theirs is surely nothing more romantic than a private gondola tour of the Grand Canal in Venice, when you could even have a gondolier sing to you!
How?
Again, the train network in Italy makes travelling from Rome to Venice easy as there is a direct high-speed train that links Termini with Santa Lucia. From the train station in Venice, you will need to take a water taxi to the city.
What to see and do
If you're planning a romantic Rome and Venice vacation, then consider a romantic night tour in Rome, which ends with a decadent meal in a traditional Roman restaurant. You could also enjoy a wine-tasting tour from Rome to the Castelli Romani, which are quaint villages just outside Rome.
In Venice we would recommend a gondola tour of the Grand Canal as some of the city's most iconic attractions can be best admired from the water – most gondola tours last around 30 minutes and you can take a private tour or, as a more economical option, you can enjoy a shared tour aboard a larger gondola. If you're interested in learning about the changing history of Venice, we would recommend a walking tour of the St Mark's area and Doge's Palace too, which were the centres of political and religious life in Venice.
Rome and Florence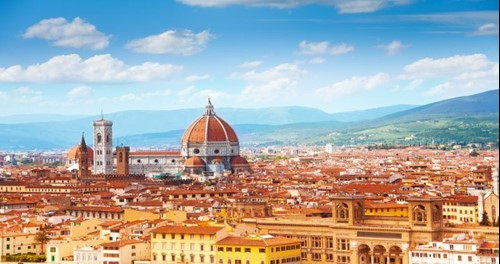 Rome and Florence combine perfectly if you have an interest in Italian art or want to see a little more of the Italian countryside on your Italy twin centre vacation. Florence has a particularly vibrant art scene and is home to two famous art galleries: the Accademia and the Uffizi.
How?
There is a direct high-speed train between Rome and Florence and the train station in Florence is centrally located, meaning you can easily walk to your hotel in Florence if it is also centrally located.
What to do and see
If you have an interest in art, consider visiting the Borghese Gallery and Gardens in Rome and we would also recommend seeing the Vatican Museums, which are home to numerous masterpieces, including Michelangelo's Last Judgement in the Sistine Chapel. Alternatively, to see a little more of the Italian countryside, enjoy a day trip to Castelli Romani or Tivoli, where you can explore the history of wider Rome.
In Florence, don't miss seeing Michelangelo's iconic statue of David at the Accademia, which is also home to other works of art by the artist, as well as paintings by Botticelli and Uccello. For an in-depth look into Florence's art scene, take a guided tour of the Uffizi Gallery, which has an extensive collection of masterpieces owned by the Medici family – the gallery's stunning terrace also has glorious views of the cityscape. If you would prefer to explore wider Tuscany, book a tour of the Chianti region (with wine tasting if you wish) or perhaps a tour of the Val d'Orcia wine roads, which is a UNESCO-protected area of Tuscany. You can also easily reach Pisa from Florence to see the Leaning Tower – take the train from Florence Santa Maria Novella train station to Pisa Centrale and then you can enjoy a walk over the River Arno to Piazza dei Miracoli, where you'll find the tower.
Want more ideas?
Want to find out more about our customised service and tailor-made twin-centre vacations? Contact one of our travel experts on 01223 637 331 or click here to send an online enquiry. You can also visit this page to see an overview of our popular holidays.
Search Keywords
Enter keywords below to perform a search within the events to find more relevant posts