Best Italy twin-centre wine holidays
Italy is well-known for its wine and boasts famous vintages, such as Chianti, Nobile di Montepulciano and Prosecco. With so many wonderful Italian wines to discover, Italy is a top destination for a wine holiday.
If you're thinking about an Italy wine holiday, but would like to discover more than just one resort or DOC, here are some of our favourite Italy twin-centre wine holidays.
Rome and Sorrento
Known as the Eternal City, Rome attracts visitors from across the globe with its historic attractions. Popular landmarks include the Colosseum, Spanish Steps and Vatican City. However, on the outskirts of Rome you will find the richness of the Roman countryside, which is decorated with vineyards. The Castelli Romani, in particular, are well-known for their wine production. These hilltop towns boast a unique atmosphere and fertile landscape thanks to the volcanic soil, which is perfect for wine production. As a consequence, it is one of Italy's most renowned wine regions and the perfect destination for a wine holiday. Within this region, Malvasia and Trebbiano grape varieties are popular, and are used to make Castelli Romani DOC white wines. Meanwhile, the red Castelli Romani DOC wines are made with a blend of Sangiovese and Montepulciano, along with Merlot.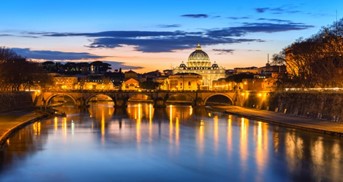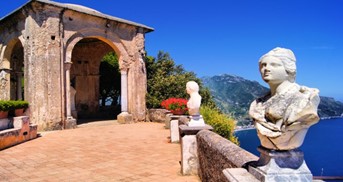 From Rome, you can easily reach the south coast to continue your wine holiday. We recommend basing yourself in Sorrento, which is a coastal resort near Naples known for its lemon production. From here, you can discover the fertile Campania countryside and wine regions. Our favourites are dotted along the Amalfi Coast, with Furore, Ravello and Tramonti being the best day trips. On this finale to your Rome and Sorrento wine holiday, you can discover the diverse Costa d'Amalfi DOC wines. Several grape varieties thrive in the Amalfi Coast wine regions, including Fenile, Pepella, Ripolo and Sciascinoso. The latter is used to make the famous Lacryma Christi del Vesuvio wine.
Florence and Chianti
For an exceptional wine holiday, we highly recommend enjoying the delights of Tuscany. This region in central Italy is rich in famous attractions and stunning vistas, and the landscape is known as some of the most beautiful in the world. For your Tuscany wine holiday, we recommend combining Florence with the famous Chianti region.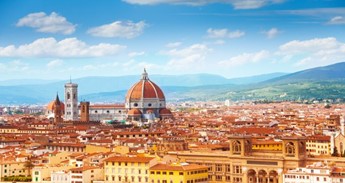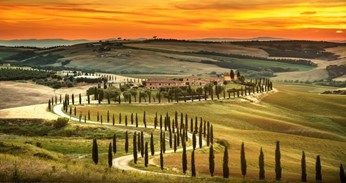 In Florence, you can spend some time immersing yourself in the artistic culture of this Renaissance gem. Be sure to visit the iconic Accademia Gallery to see Michelangelo's statue of The David and don't miss out on the masterpieces at the Uffizi. From Florence, you can also visit Pisa to see the Leaning Tower, or Siena with its sprawling Piazza del Campo.
After discovering the delights of one of Tuscany's best-loved cities, we can whisk you into the heart of the Chianti wine region on your customised wine holiday. Our Tuscany wine tour takes you along the famous Val d'Orcia wine roads to Montalcino, Montepulciano and Pienza. These regions are known for their sublime wines – Brunello di Montalcino and Nobile di Montepulciano in particular.
Venice and Lake Garda
While Venice may be most famously known for its grand architecture and iconic Grand Canal, Venice and the Venetian Lagoon also boast some very special vineyards. We highly recommend discovering these secret vineyards on your wine holiday (click here to see our Venice vineyards tour). In particular, visit the island of Sant'Erasmo, where local farmers still cultivate the land with traditional methods. The Sant'Erasmo vineyards date back to the 16th century and the Istrien Malvoisie grapes are mostly grown here. One of the best wines to try is Orto di Venezia.
During your wine holiday, don't miss out on a visit to the Prosecco Hills in Veneto for a special treat. Recent years have seen the popularity of Prosecco boom. The best wine region to visit for authentic Prosecco is Valdobbiadene, which is considered the capital of the Prosecco Hills.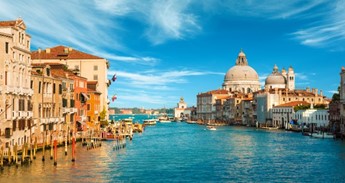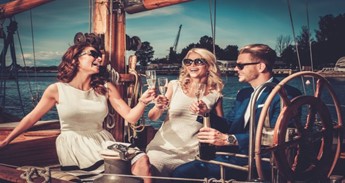 The magic of Venice combines particularly well with Lake Garda in the Italian Lake District. Here, you can relax by the waterfront and enjoy idyllic lakeside walking trails and sublime fish freshly caught from the great lake. There are also several Lake Garda wine regions to discover. We recommend visiting Borghetto, a small settlement on the south side of the lake that makes some of the most unforgettable Lombardy wines. New vineyards were planted here in 1999 and so the wines are still comparatively young. However, the Azienda Agricola Il Borghetto red wines are excellent and a real treat. Alternatively, if you're enjoying a wine holiday on the north side of Lake Garda, visit Cantina Grigoletti in the Trentino region to sample award-winning Marzemino wine.
Click here to see our Venice and Lake Garda twin-centre holiday – it can be customised in any way to fit your needs, such as with a Prosecco wine tour.
Italy Twin-centre Wine Holiday
We specialise in twin-centre holidays to Italy and offer a fully personalised experience. This means that one of our travel experts will take the time to listen to what you want from your wine holiday and will then create the perfect experience for you. Your holiday will include personalised Italy wine tours and any extras that you wish for, such as VIP tours of the city attractions. To find out more about our popular Italy twin-centre wine holidays, please call an expert member of our team on 01223 637331. Alternatively, please click here to send an online enquiry. You can also click here to browse our selection of Italy twin-centre holidays.
Search Keywords
Enter keywords below to perform a search within the events to find more relevant posts