Best Italy holidays for wine
Italy is home to many diverse wine regions, with many popular cities having their own local wine, making Italy the perfect destination for a wine tour. However, with so much choice, we wouldn't recommend confining yourself to just one city. Instead, we suggest a twin-centre holiday to Italy that allows you to visit more than one city on your Italy wine tour, giving you the opportunity to sample diverse wines and explore the many faces of Italian culture.
If you're thinking about a wine tour of Italy and aren't sure which cities and wines combine well, read on for our guide to the best Italy wine holidays.
Turin & Venice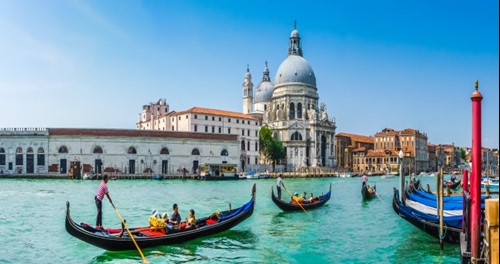 This wine tour of North Italy takes you to the vibrant wine regions of Piedmont and Veneto on a twin-centre Italy holiday combining Turin and Venice.
Turin is in the Piedmont region of Italy, where small vineyards are protected from the elements by Alpine valleys – a setting that is reflected in the characteristic flavour of the wines from this region, such as Barbaresco and Barolo. As well as these big-name brands, the region is home to several small and local wine producers, who create small-batch wines that are a treasure trove of flavours!
Venice, meanwhile, brings the fruity decadence of the Veneto region, where you can find vibrant Prosecco wines and glorious Pinot Grigio whites. While on this twin-centre wine tour to North Italy, we highly recommend enjoying a guided tour to Valdobbiadene and the Prosecco Hills to visit the vineyards that produce Italy's most popular sparkling wine and, of course, to sample Prosecco in its birthplace.
Chianti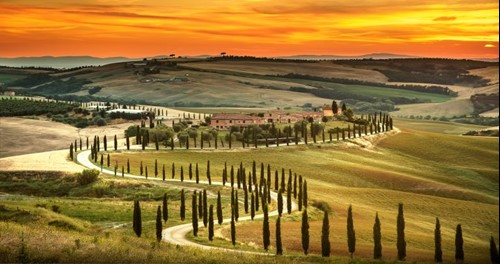 No guide to Italy's wine regions would be complete without mention of the famous Chianti region in Tuscany. White wines from this region include Chianti Classico, Vino Nobile di Montepulciano and Brunello di Montalcino, with the notable reds of Maremma and Bolgheri.
We recommend basing yourself in Florence on your Italy wine tour, as from here you can easily visit the Tuscan countryside and Chianti vineyards on a wine-tasting tour. You can also visit pretty Tuscan towns from Florence, such as Lucca, San Gimignano and Siena, which are known for their classic architecture and sublime country scenery. And then there is Pisa's iconic Leaning Tower – a must-see of any vacation to Tuscany.
Rome & Mount Vesuvius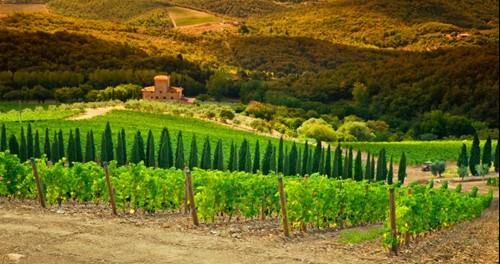 Moving south, we love the combination of Rome and Mount Vesuvius for decadent wines that pack a punch.
Rome is surrounded by the Lazio countryside, which is home to many intriguing vineyards producing rare varieties of Italian wine. In particular, the Castelli Romani villages on the outskirts of the Eternal City produce some of the best local wines, such as the white wine of Frascati, and also boast stunning natural landscape. To make the most of your time, we recommend adding a pre-arranged Rome to Castelli Romani wine tour to your twin-centre Italy holiday so that you can sample the best local wines and Lazio produce, and see the prettiest villages.
A wine tour of Rome combines perfectly with a visit to the Mount Vesuvius vineyards on Italy's south coast, where you can discover the famous Lachryma Christi wine. We recommend basing yourself in Sorrento on this twin-city wine tour as you can easily visit Mount Vesuvius from here on a pre-arranged wine-tasting tour that, for example, combines a visit to another local attraction, such as Pompeii or the Amalfi Coast.
Mount Etna & Syracuse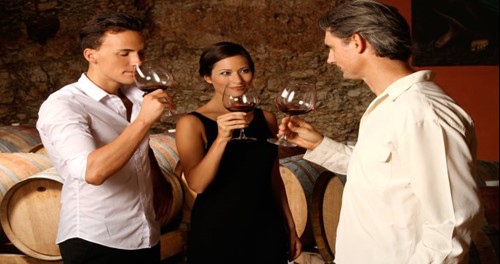 Sicily represents a "frontier region" when it comes to Italian wine, representing a new world contrast to the established order of old world wines in the centre and north of Italy.
The dessert wines of Sicily are particularly delightful and certainly the best known here, but the island is also diversifying, with full-bodied reds and organic white wines. The fertile vineyards of Mount Etna are producing some particularly delightful wines, such as Etna DOC, which is defined by the volcano's mineral-rich soil. We recommend basing yourself in Catania for this part of your Sicily wine tour, as you can easily visit the volcano vineyards on a day tour.
The sloping landscape of Syracuse provides the perfect finale to this Sicily wine tour as it offers idyllic sea views and coastal relaxation, as well as iconic local wines, such as Moscato di Siracuse, which is made exclusively with the divine Moscato Bianco grapes. It also has a rich heritage to discover and we highly recommend taking some time to discover the UNESCO-protected Greek ruins outside the city.
If you're thinking about visiting Italy on a wine tour, why not speak to one of our travel experts about our customised twin-centre holidays to Italy's wine regions. We can combine any cities that you want to visit on your wine tour and, with our complete vacation planning service, we can take care of all the details, including flights, online check-in, airport transfers, accommodation, inter-city transfers and pre-arranged wine-tasting tours. To find out more, please call us on 01223 637331 or click here to send an online enquiry – we typically reply within 24 hours with a personalised e-brochure of your wine-tasting experience in Italy.
Search Keywords
Enter keywords below to perform a search within the events to find more relevant posts