Best city & coast holidays to Italy
Some of our most popular Italy twin-centre holidays are ones that combine a popular city in Italy with a coastal retreat, as this style of holiday gives you the chance to enjoy famous landmarks and attractions in a touristic city, but also have some time to relax on the beach or in a coastal hideaway. However, with so many resorts to choose from, you may be struggling to find the best combination for your Italy holiday. If this is you, then read on, as in this travel blog we share with you some of our favourite city and coastal holidays to Italy.
Rome & Sorrento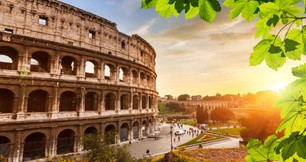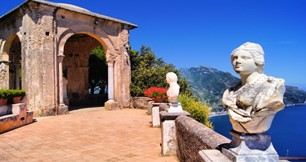 This is, by far, our most popular city and coast holiday, and it is perfect as a romantic holiday, such as a honeymoon, or as an enjoyable family holiday.
In Rome, you can discover famous and historic landmarks, such as the Colosseum and Roman Forum, or ancient artefacts and artistic masterpieces in Vatican City. There is something for everyone in Rome, including quiet parks where you can enjoy a picnic, unusual architecture, such as La Nuvola, and classic attractions that you'll recognise from the movies, such as the iconic Spanish Steps. There is also a bustling food district, where you can sample Roman snacks, such as suppli.
Sorrento combines perfectly with a city break in Rome, partly because of its very different scenery and culture, but also because it can be reached reasonably easily on the train from Termini train station (provided you have pre-arranged your train tickets and transport)!
Sorrento has a very different vibe to Rome: while the Eternal City is bustling with an eclectic mix of historic attractions and city vibrancy, Sorrento brings a relaxed coastal vibe, where the scent of citrus lingers in the air from the town's orange and lemon groves. While there is plenty to keep you entertained in Sorrento itself, we recommend pre-arranging a few day trips from Sorrento to make the most of your holiday time, such as:
Capri and Anacapri
Pompeii and/or Herculaneum
Mount Vesuvius – a great place to enjoy wine tasting
Amalfi Coast, including Positano
For our tailor-made Rome & Sorrento twin-centre package, please click here.
Florence & the Beaches of Monte Argentario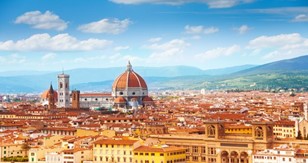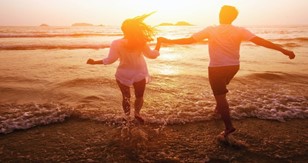 We love the region of Tuscany in Italy as a romantic couples' holiday or honeymoon and, although not well-known for it, Tuscany is home to some particularly pretty beaches and coastal resorts, including Viareggio and Elba Island, making it the perfect region for a city and coast Italy holiday.
We recommend starting your Tuscany twin-centre city and coast holiday in the Renaissance city of Florence, where you can discover artistic masterpieces at the Accademia Art Gallery (home to Michelangelo's David) and the Uffizi. If you visit the latter, be sure to stop by the gallery's roof-top terrace to be rewarded with glorious views of Florence's cityscape!
From Florence, we highly recommend enjoying a couple of day trips as you can easily visit the likes of Pisa, Siena or Lucca from Florence (either on the train or as part of a guided tour). You can also pre-arrange a wine-tasting tour of the Chianti region or the Val d'Orcia wine roads for a particularly pleasant country experience.
As a finale to your Tuscany city and coast holiday, we recommend relaxing in Monte Argentario, which is a little-known region of Italy that has been untouched by tourism, meaning that you can completely relax here on quiet beaches and paddle in the pristine waters of the Tyrrhenian Sea. It boasts unbelievable coastal vistas, idyllic and secluded beach coves, and pretty seaside towns that ooze Italian charm.
For our tailor-made Florence & beach twin-centre package, please click here.
Venice & Lake Garda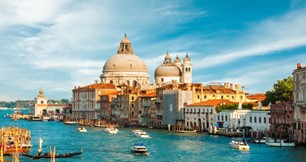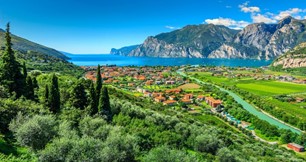 Ok, this isn't technically a city and coast holiday, since Lake Garda isn't on the seafront; however, this grand lake is so vast and has such a wonderful seafood culture, that it does feel like a coastal retreat.
We recommend beginning this twin-centre holiday with a few nights in the Floating City of Venice, where you can immediately immerse yourself in the magic of this unique city with a private water taxi from the airport. (Believe us – you will feel like a rock star arriving at your hotel on a speed boat along the Grand Canal!) In Venice, there are some classic attractions that are not to be missed, such as St Mark's Square and the Golden Basilica, as well as the Doge's Palace. However, if you can, take some time to discover some of the local attractions off the main island, such as the wonderful glass workshops on Murano.
Next, we recommend relaxing on the banks of the epic Lake Garda, which is the largest lake in the Italian Lake District and set against a glorious mountain backdrop that creates unbelievably dramatic natural vistas. There are several villages around the lake to choose from but, for something special, we recommend choosing Sirmione, which is the peninsula that juts out into the lake. It has several spa hotels to choose from and a pretty Old Town.
If you are visiting Lake Garda on a family holiday to Italy, or if you simply feel like letting loose for the day, we recommend visiting Gardaland, which is the region's fun theme park. But, for something more serene and relaxing, opt for a boat and coach tour of lake so that you can fully appreciate the pretty scenery in all its glory.
For our tailor-made Venice & Lake Garda twin-centre package, please click here.
If you would like to visit Italy on a city and coast holiday but aren't sure where to go, why not chat to one of our travel experts about our tailored vacation planning service. As a part of our customised service, we will listen to what you want from your Italy twin-centre holiday and will recommend the perfect holiday itinerary, uniquely tailored to you. For a custom quote, please contact us.
Search Keywords
Enter keywords below to perform a search within the events to find more relevant posts