The "Rain of Rose Petals" returns to the Pantheon in Rome
On Sunday June 4th, 2017, you will be able to admire a magical sight at the Pantheon, as its floor is covered with a rose petal rug for the "Rain of Rose Petals" event.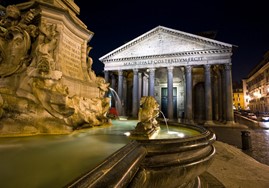 This breathtaking event, which attracts the local Romans and many tourists alike, is a special re-enactment of an ancient celebration that historically took place on Pentecost during the Papal Mass. As a part of the event, rose petals fall like rain from the hole in the Pantheon dome to symbolise the descent of the Holy Spirit on the Apostles.
Although an ancient tradition, the event was suspended several centuries ago, only being restored in 1995. However, since then, the annual event has delighted the crowds and, this year, will take place on Sunday June 4th after Holy Mass (around 12 pm), when, in special collaboration with the Rome Fire Department, thousands of rose petals will be dropped into the Pantheon through the dome.
If you would like to attend this special event in Rome, we recommend arriving by 9.30 am at the latest as it is a hugely popular celebration and, at present, there are unfortunately no TV screens outside projecting the event to the waiting crowds.
Search Keywords
Enter keywords below to perform a search within the events to find more relevant posts