Jean Arp at the Baths of Diocletian in Rome
Fifty years after his death, a major exhibition has opened in Rome, which celebrates Jean Arp (1887-1966), a major figure in art from the 20th century.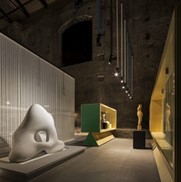 The exhibition opened in the Great Halls at the Baths of Diocletian in Rome on 30 September 2016 and contains a staggering collection of over 80 works dedicated to the French master. It is being promoted by the Superintendence for the Colosseum and the Central Archaeological Area of Rome and the Roman National Museum with Electa, and is curated by Alberto Fiz in collaboration with the Fondation Arp Clamart in France. The exhibition has been designed by architect Francesco Venezia and is a particularly special treat for anyone with an interest in 20th century art and literature.
During his life, Arp had a leading role in the avant-garde and was among the founders of the Dada Movement, which started in Zurich in 1916, making 2016 a particularly special time to visit the exhibition and celebrate 100 years since the birth of the movement.
The exhibition will be on show until 15th January, 2017.
Search Keywords
Enter keywords below to perform a search within the events to find more relevant posts