A secret island in Venice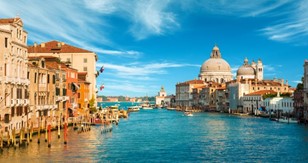 Venice is one of the most magical cities in Europe, with decadent architecture floating on the banks of the iconic Grand Canal creating an atmosphere of unique elegance. However, it is also one of Italy's most popular tourist destinations, attracting visitors throughout the year.
So, could it be possible to find a place in Venice so peaceful that you can hear Mediterranean birds singing in the trees and watch butterflies dance amongst the flowers? Well, yes – on the small, private island of Santa Cristina.
Isola Santa Cristina sits deep inside the Venetian Lagoon and is owned by the iconic Swarovski Family, who have transformed it into a paradise of luxury and sustainability that you can enjoy on an exclusive Venice holiday.
The island retreat, which comes complete with a luxury villa and private swimming pool, can accommodate up to 16 people, making it ideal for intimate weddings and small private events. It is a place where nature meets elegance, with the ambition to become eco-sustainable and fully self-sufficient within a few years. It is the business venture of René Deutsch, son of the second wife of Gernot Langes-Swarovksi, who hopes it will be a place where visitors to Venice can find inner peace – even during the vibrant Carnevale!
The villa, whilst offering all the charm of an Italian residence, offers five-star facilities and is decorated with wood and marble to create a harmonious blend of eco-products with the decadence of Venetian culture. For example, there is a refined library, featuring travel texts that is illuminated by a stunning Swarovski crystal chandelier, and there is an authentic Italian kitchen offering catering by the best chefs in the area, such as Ruggero and Massimiliano Bovo of The Black Cat – a trattoria favoured by the VIPs. There is also a fishing lagoon, an organic orchard, olive groves and a vineyard, from which the owners are producing their own organic red wine!
If you would like to rent Isola Santa Cristina for your own private event or luxury Venice holiday, please speak to one of our travel specialists, who will be able to advise you further and put together the perfect VIP Venice package itinerary, including flights, private water taxi transfer to the island and private rental of Isola Santa Cristina – call us locally on (UK) 01223 637331 or (US) 347-594-5500 to find out more.
Search Keywords
Enter keywords below to perform a search within the events to find more relevant posts