Our favourite restaurants in Sorrento
Sorrento is one of our most popular holiday destinations and combines very well into a Rome and Sorrento twin-centre as this type of holiday allows you to appreciate the history and culture of the Roman Empire but also spend some time relaxing in a pretty coastal location.
If you are holidaying in Sorrento then you are in for a treat as the town is home to, in our opinion, some of the best restaurants in South Italy, especially if you love pizza or seafood. So, without further ado, here are some of our favourite restaurants in Sorrento, where we're sure you'll have a great meal.
For Pizza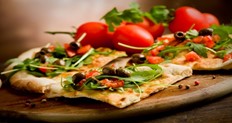 Pizzeria da Franco
If you want to sample Neopolitan pizza in an authentic pizzeria with the locals, then we highly recommend Pizzeria da Franco in the centre of Sorrento (just around the corner from Hotel Michelangelo). It is not fancy – the pizza is served on a tray with plastic cutlery – but the pizza is so insanely good that this place tops our list of restaurants in Sorrento.
Where: Corso Italia, 265
For Something Romantic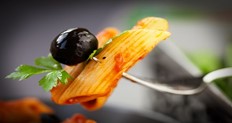 Restaurant Basilica
We love the rustic feel of this centrally located restaurant that specialises in Sorrentine classics, such as "marinara style" mussels and grilled fish lightly fragranced with local lemons. They can also cater for those with special dietary needs, such as vegans and vegetarians, and have the moto "eat better, live better", which we love! The décor is dedicated to the volcano Mount Vesuvius, with vibrant wall paintings that create a special atmosphere that we think makes this restaurant the perfect spot for a romantic meal.
Where: Via Sant'Antonino, 28
For Seafood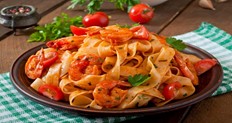 Ristorante Bagni Delfino
The views from this seafood restaurant simply can't be beaten as it sits on the coast at Marina Grande. It is one of Sorrento's most popular and best loved seafood restaurants, where you can find classic dishes, such as seafood risotto and fresh lobster. It is family run and so you really get the sense that the staff care about your experience; however, as it is so popular, booking in advance is a good idea – especially in peak season.
Where: Via Marina Grande, 216
We also recommend Restaurant Basilica (above) for fresh fish and seafood – they specialise in raw fish dishes, such as tuna tartare.
For Families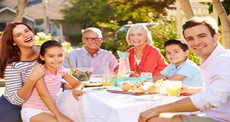 Ristorante Pizzeria Tasso
When it comes to the best family friendly restaurants in Sorrento, we love Ristorante Pizzeria Tasso as it offers something for everyone. As the name suggests, it serves authentic Italian pizza that the children will surely love, but there are also pasta dishes that will appeal, such as spaghetti with tomatoes and stuffed ravioli, as well as simple grilled vegetables. The staff are friendly and we have found them to be wonderful with children and there are highchairs available too. Plus, it is open daily between 12pm and 11.30pm and so is the perfect place for an early dinner.
Where: Via Correale, 11/D
We hope you have found this travel blog about the best restaurants in Sorrento useful. If you are still planning your holiday to Italy and would be interested in one of our tailor-made twin-city holidays, why not browse our selection of offers by clicking here.
Search Keywords
Enter keywords below to perform a search within the events to find more relevant posts